Thruster Disc Brakes – USB
The SIBRE USB 3 range of Failsafe Disc Brakes represent the pinacle of SIBRE's continuous research and development. These brakes are specifically designed to meet the demands of crane-lifting and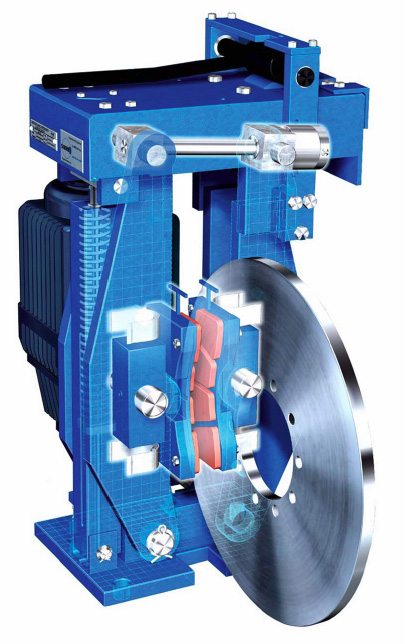 material handling applications by combining the benefits of both spring and weight applied brake designs. With the addition of other improvements such as lining wear compensation,
synchronising linkage and solid cast steel fabrication, makes the USB 3 range of failsafe brakes, the first designs from any manufactrurer to be truly considered "Maintenance Free".
Applications
Primarily used as both Dynamic or Holding brakes for High Speed shaft applications, but can also be used for Low speed applications up to 30,000 Nm.
Ideal as High Speed brakes for Main hoist and Boom Hoists in Container Cranes and Ship loaders, as well as for Conveyor Drives, Bucket Wheel Excavators, Stackers and Reclaimers.
Design Advantages
Robust design with all bearings and pivot points fitted with teflon coated, white metal bushes
Rust and acid resistant stainless steel pins
Optimized lever geometry resulting in a 70% increase in brake force, dramatically increased efficiency and service life, along with increased lining clearence
Braking torque independent of disc rotating direction
Square spring tube with graduated torque scale to facilitate torque adjustment
Easily replaceable, asbestos free, sintered brake linings for high circumferential speed up to 85 m/sec. and max. disc temperature of up to 850°C
Reduced maintenance by means of SIBRE-wear-compensator
The SIBRE-synchronisation linkage guarantees an equal and synchronuous movement of brake arms, ensuring equal lining clearance without any manual adjustment of air-gap.
Compact envelope dimensions and symetrical design mean no more right handed or left handed design