Polyurethane Buffers – Bumpers PB
Polyurethane Buffers are safety protection devices that can be applied to a wide range of material handling applications such as:
Industrial
Construction Cranes
Elevators
All corners around automobiles
All kinds of transmission devices
This buffer also can absorb the impact energy and transform it into elastic potential energy because of its micro-cellular structures. This is provided through the damping effect in the micro-cellular 'gas' spring.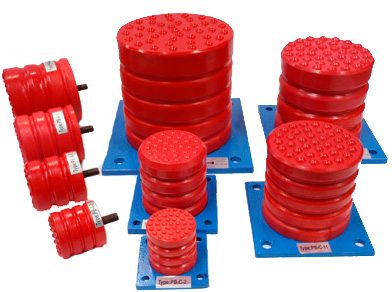 Advantages of this buffer
Excellent anti-pressure and restore capability
Good impact resistant
Perfect ageing-resistant
Good chemical stability
Corrosion-resistant capability
Low cost
Easier maintenance
Damping smoothly
Low noise
No flash spark
Polyurethane Buffer Net Pricing below in AUD.
The ones in Blue are ex stock Melbourne. Dims are dia x height in mm
| | | | | | |
| --- | --- | --- | --- | --- | --- |
| PB-A-1 |  65 x 80 | PB-A-9 | 125 x 160 | PB-A-17 | 250 x 250 |
| PB-A-2 |  80 x 80 | PB-A-10 | 160 x 125 | PB-A-18 | 250 x 320 |
| PB-A-3 |  80 x 100 | PB-A-11 | 160 x 160 | PB-A-19 | 320 x 250 |
| PB-A-4 | 100 x 80 | PB-A-12 | 160 x 200 | PB-A-20 | 320 x 320 |
| PB-A-5 | 100 x 100 | PB-A-13 | 200 x 160 | | |
| PB-A-6 | 100 x 125 | PB-A-14 | 200 x 200 | | |
| PB-A-7 | 125 x 100 | PB-A-15 | 200 x 250 | | |
| PB-A-8 | 125 x 125 | PB-A-16 | 250 x 200 | | |
| | | | | | |
| --- | --- | --- | --- | --- | --- |
| PB-C-1 |  65 x 80 | PB-C-9 | 125 x 160 | PB-C-17 | 250 x 250 |
| PB-C-2 |  80 x 80 | PB-C-10 | 160 x 125 | PB-C-18 | 250 x 320 |
| PB-C-3 |  80 x 100 | PB-C-11 | 160 x 160 | PB-C-19 | 320 x 250 |
| PB-C-4 | 100 x 80 | PB-C-12 | 160 x 200 | PB-C-20 | 320 x 320 |
| PB-C-5 | 100 x 100 | PB-C-13 | 200 x 160 | PB-C-21 | 320 x 400 |
| PB-C-6 | 100 x 125 | PB-C-14 | 200 x 200 | PB-C-22 | 320 x 450 |
| PB-C-7 | 125 x 100 | PB-C-15 | 200 x 250 | PB-C-23 | 400 x 450 |
| PB-C-8 | 125 x 125 | PB-C-16 | 250 x 200 | PB-C-24 | 400 x 300 |
| | | | | PB-C-25 | 430 x 450 |