Industrial Drum Brakes
SIBRE's TE range of Industrial  Drum  brakes, are the latest adaptation of this enduring design of Failsafe Drum Brakes.
This modern variation of the DIN 15435 Standard metric drum brake incorporates features from our USB range of Disc Brakes such as Wear Compensation, Synchronising Linkage, Cast Steel Lever arms and Stainless Pins with white metal bushes…  All as standard features not offered by our competitors.
SIBRE also offer the same modern features in an Industrial Drum Brake manufactured to match the AISE Standard Imperial sized drum diameters.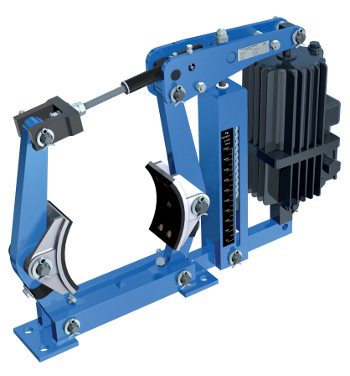 SIBRE Industrial Drum brakes are specifically designed for both static and dynamic applications that require one or more safety devices to prevent uncontrolled operation including, but not limited to:
Conveyor Drives (defined under AS 4024 & AS 1755)
Cranes, Hoists and Winches (defined under AS 1418 & AS 2550)
Stackers, Reclaimers, Shiploaders and other types of bulk material processing equipment
Furnace tilting brakes for ferrous and non-ferrous furnace operators
Our team of experienced and qualified sales engineers are on hand to offer advice and work with you to ensure we select the most appropriate style of brake for your technical and budgetary requirements.
A diverse range of release options is also on offer, from solenoid and pneumatic actuators, to the popular self-contained EMG  Electro-Hydraulic Thruster units, as well as our range of Standard and Custom Hydraulic Release Units.
And all exclusively manufactured and tested by our factory in Germany.

Range of Industrial Drum Brakes for special applications, encompassing some of the more exotic design configurations.

Flexible drive couplings incorporating heavy duty brake drums for use with Industrial Drum Brakes.