Hydraulic Disc Brakes – SHI
SIBRE's range of SHI Hydraulic Disc Brakes consist of of 2 independent halves of spring applied, hydraulically released calipers.  The SHI range has been specifically designed for Low Speed applications where very high braking torques are required, however the smaller design Callipers can also be used for high speed applications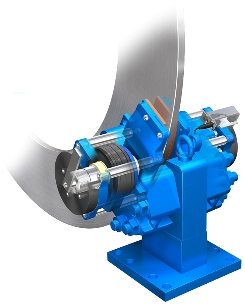 SIBRE's SHI design is unique to other Hydraulic Callipers in the market, in that the hydraulic cavity is machined blind into the housing and the piston does not act directly onto the linings…  Instead the piston transfers the spring force via four large presure pins, creating a more even distribution of the clamping force across the lining and preventing any path for oil to potentially leak through and compromise friction.
Large parallel keyways transfer the braking torque from the shoe, through the housing and down to the consol without any side loading of the piston or seals, resulting in significantly reduced maintenance and seal wear.
All SHI hydraulic disc brakes are also available in Floating Calliper or Mono Spring design, and can be optioned with Stainless Steel Piston, increased corrosion protection and guards for highly corrosive out door environments.
 Applications
SHI hydraulic disc brakes are primarily designed as Low Speed Emergency stopping brakes for high torque applications such as Main Hoist or Boom Hoist on Container Cranes and Ship Loaders, Tail Brakes for large Conveyor Systems, Holding Brakes for Car Dumpers, Indexers etc.
Design Advantages
Fast response time for maximum safety
Suitable for different disc thicknesses
No side loading of forces onto pistons and seals during dynamic braking
Hydraulic cavity machined blind into housing, ensures no path for leakage oil onto linings
Simple and fast manual wear compensation
Easy and quick replacement of pad carriers