IEC & ATEX Explosion Proof Thrusters
EMG's range of ELDRO® EdEx Explosion Proof Thrusters are designed for Gas or Dust ignition environments.
ELDRO® EdEx thrusters are available for use in the following Area classifications:
E I M2 … for zone 1 and 2                 for Methane Gas Environments
E II 2G… for zone 1 and 2                  for Gas Ignition Environments
E II 2D… for zone 21 and 22              for Dust Ignition Environments
ELDRO® EdEx Thrusters conform to both ATEx and IEC specifications and have been granted certification under both standards.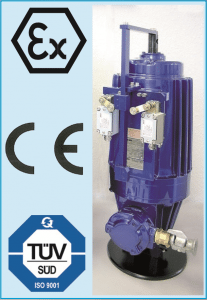 Explosion proof thrusters available.
| | | |
| --- | --- | --- |
| Type | Stroke(s) available (mm) | Rated Restoring Force  (N) |
| EdEx 32 | 50 | 320 |
| EdEx 50 | 50 | 500 |
| EdEx 80 | 50, 75, 160 | 800 |
| EdEx 125 | 60, 160 | 1250 |
| EdEx 150 | 60, 160 | 1500 |
| EdEx 200 | 60, 160 | 2000 |
| EdEx 250 | 60, 160 | 2500 |
| EdEx 320 | 100, 120 | 3200 |