Crane Buffers
The Sibre range of Crane Buffers includes hydraulic buffers with gas retraction as well as cellular buffers for smaller travel carriages.
HD Crane Buffers are safety devices that, in the case of an emergency, protect cranes and trolleys against high impacts.
The damping characteristic of the buffers can be adjusted by a variable throttle system, so it can be optimized for specific applications.
An outstanding product lifetime is guaranteed by the hard chrome plated piston rod, special seals and hydraulic fluid as well as high level precision in production.
PB-C Cellular Crane Buffers are made of high grade polyurethane material. The high quality surface protection guarantees long service times, even if the buffer is installed on very heavy duty machinery or in harsh environments. The buffer operates comfortably between -30 degC and +60 degC.
The Sibre product range includes cylindrical buffers with square mounting plates or center thread rod, diameter 80mm to 500mm are available at different lengths.

Gas-Liquid Hybrid Buffers Series HD are widely used for all kinds of production and material handling machineries for mechanization and automation industry.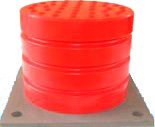 This is a safety protection device that can be applied to a wide range of material handling applications.